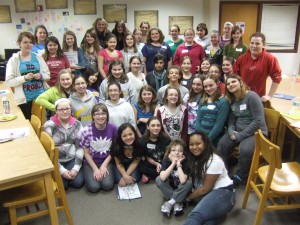 On Thursday, March 27, 2013 middle school girls participated in a Sister to Sister Summit at Tomah Middle School sponsored by Tomah Middle School and AAUW (American Association of University Women).
The girls attended four workshops throughout the afternoon that covered the topics of Zumba, Beauty Myth/Body Image, volunteerism, and manners/etiquette.
Workshop leaders donated their time for these girls.  Six high school girls donated their time to be positive role models for the middle school girls.  They led the girls in a chat session where they had an opportunity to talk about their day and discuss how their lives would be different based on what they learned at the summit.
A very special dinner was provided of fancy appetizer type foods and desserts.  Food was provided by AAUW women and XI XI Sorority women.
The girls donated $3.00 to come to the summit.  This donation will go to the Tomah Area Feed My Starving Children MobilePack that will take place at the Tomah Fairgrounds on July 12 and 13, 2013.
The day concluded with all students receiving a goody bag filled with donations from area businesses.  We would like to thank the following businesses and people for helping to make it a special day for the girls:   AAUW women, Tomah School District, TEA (Tomah Education Association),Warrens Cranberry Festival, McDonalds, XI XI Sorority, Lake View Vending, Culvers, Tomah Memorial Hospital, F & M Bank, Houston Dental, First Bank of Tomah, Irma Keller, Shelly Baggot, Tonya Gnewikow, Laura Bishop, Jenny Parker, Mary Radl, Diane Henrickson/Kelbel, Emily and Amanda Parrish, Annie Jereb, Anna Enderle, Kenzie, Herold, Cody Delp, Breanna Huff, and Alexis Cox.
It was an awesome opportunity for middle school girls.  They learned, had a good time and felt special.  All of the young women were very positive and appreciative.
---
Past Event Photos