MARK YOUR CALENDARS!
Our first meeting of the year will take place on Tuesday September 29, starting at 6PM to around 7:30PM.  We will  meet virtually via "GOOGLE MEET." Deb Young, VP of Programming, will send you the invitation with a link to the meeting)
Future meeting dates:
Monday October 19, 2020
Monday November 16, 2020
Past Programs
Thursday February 21st, attendees listened to a sobering presentation on Human Trafficking.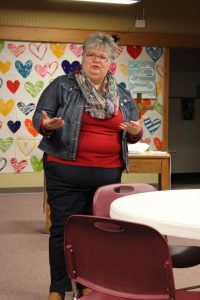 Thursday January 10th AAUW Tomah Member Barb Sullivan provided a tour of the Area Community Theater.  Members toured backstage, dressing rooms, prop area, costume room, and garage.
November 8th at 5:30 pm Tomah VA Medical Center practitioners will present "Integrative Health and Wellness for Women".  Presenters will be Jolene Renda, Nancy Patterson, and Michelle Kuehl.
October 11th at 5:30 pm Cindy Zahrte will share "School Safety" at the First United Methodist Church.
September 27th at 5:30 pm at Western Technical College we'll hear from Rose Berry and Jen Parker on "A Travel to Nepal."
Rose Berry tells members about the authentic meal she prepared for our Thursday night meeting.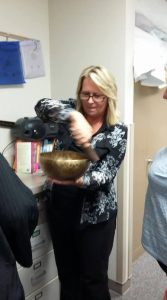 Jen Parker demonstrates how to play the singing bowl she brought back with her from Nepal.
Sip and Paint Social Event – August 23rd.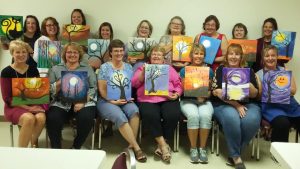 Our first event for the new year – AAUW Tomah Branch members show off their creative talents. In addition to many of our long standing members, AAUW Tomah welcomed several new members to our group.  Nice job Ladies.
Upcoming Programs
January 10th at 5:30 pm attendees will have a tour of the Area Community Theater, with presenter Barbara Sullivan.
February 7th at 5:30pm The Necedah National Wildlife Refuge Deputy Manager, Leann Wilkins will share information with the group.  Location is the First United Methodist Church.
March 14th at 5:30 pm AAUW Tomah will celebrate Women's History Month at the Best Western Hotel.  Each year we honor several deserving women from our community.
April 11th at 5:30 pm at the First United Methodist Church, presenter Martha Klatt will share "Women and Finance."
Thursday May 9th at 5:30 pm will be our annual business meeting. In addition, Rep Nancy Vandermeer, Assembly District 70 will share "Rural Development in Wisconsin." This meeting will be at the Ground Round Restaurant meeting room.