Thursday January 11th at 5:30 pm
Program: Integrative Health and Wellness for Women
Presenters: Jolene Renda, Nancy Patterson, and Michelle Kuehl
Location: Toman VA Medical Center
Thursday February 8th at 5:30 pm
Program: Identity Theft
Presenter: Officer Paul Sloan
Location: Tomah Police Station
Thursday May 8th at 5 pm
Program: Women's History Month Celebration
Location: Best Western Hotel, Tomah
Thursday April 12 at 1 pm
Program:  Volk Field Tour
Presenter: Joline Poweell
Volk Field Camp Douglas
April 20-21 – State Convention – Milwaukee Area
Thursday May 10th at 5:30 pm
Program: Annual Business Meeting
Location: Ground Round Restaurant, Tomah
For program details contact Program Vice President: Sonia Olson at AAUWTomah@gmail.com.
Some of Our Past Programs
August 17th at 5:30 pm
Program: "Adding More Movement Into Our Day"
Presenter – Kathy Peterson
Saturday September 16th at 12:00
Program: Introduction to the Natural Connection
Presenter: Paula Caucutt
Location: 1012 Superior Ave, Tomah
Thursday October 12th at 5:30 pm
Program: Tomah VA: Building a Culture of Excellence
Presenter: Victoria Brahm
Location: Tomah VA Medical Center Conference Room
Thursday November 9th at 5:30 pm
Program: My Experience in the State Assembly
Presenter: Nancy Vandermeer (changed)
Location: Tomah Chamber of Commerce
Members listening as President Audrey Chamber's leads our meeting.
Saturday December 9th at 10:30 am
Program: Christmas Brunch and the Educational Fund Fundraiser
Location: Julia Palmer's Home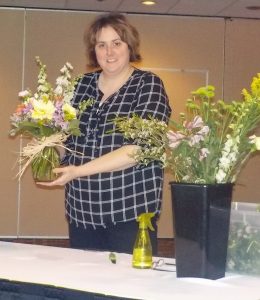 Pam Long from The Station shared with us her flower arranging talents and discussed the challenges and success of starting and owning her own business.
Our November meeting featured information about the Personal Health Inventory being developed and implemented at VA Hospitals across the country. Deborah Thiel shared information about this model of personalized, proactive, patient-driven healthcare.
The personal health inventory helps guide individuals in taking charge of not only their healthcare decisions, but their own health. Members were able to take home copies of the inventory to help in their own health planning.
Deborah Thiel, RD, MPH works as a field consultant for the Department of Veterans Affairs Office of Patient Centered Care and Cultural Transformation. She has over 36 years of professional work in various aspects of healthcare, and is a member of AAUW-Tomah Branch.

In September members had a great time at The Point in downtown Tomah.  Owner, Jane Donaldson, hosted this social, and shared unique products available in the store.

---